Affected by the COVID and China's carbon neutrality policy, the trend of "environmental protection" and "sustainability" continues to heat up.
The beauty industry also took the lead in raising the "banner" of environmental protection. In the past two years, more and more beauty brands have begun to link this generation of young consumers who are "willing to pay for environmental protection" with natural ingredients, non-toxic and harmless packaging.
Tmall and other mainstream e-commerce platforms also regard "pure beauty makeup" with zero addition, zero injury and zero cruelty as one of the key development trends. Data from Tmall International show that in 2021, more than 70 new pure beauty brands have entered tmall International, with sales of this category increasing by more than 600% year-on-year.
In order to help beauty cosmetics enterprises better seize market opportunities under the trend of environmental protection, China's packaging material enterprise Zhongshan Luencheong Dispensing Pump LTD. (hereinafter referred to as "CLC"), after 5 years of research and development, has launched the innovative environmental protection packaging material "All-plastic Pump", which is convenient for overall recycling and more environmentally friendly.
Since then, CLC has become the first packaging material enterprise to master the core patent technology of "all-plastic pump" in the industry.
-01-
After thousands of tests
"All plastic pump" official debut
According to CLC officials, the pump head consists of 12 small parts including "elastic element" and "spherical body". The elastic components and spheres of the traditional pump head are composed of springs and glass beads. In the recycling process, the pump head needs to be disassembled and then recycled according to different materials.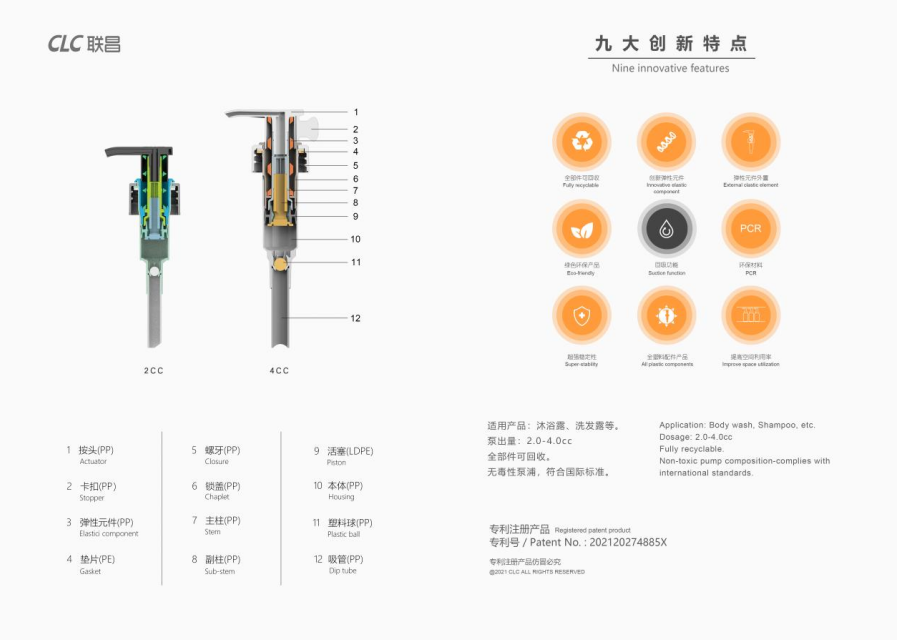 The "All-Plastic Pump" is a comprehensive upgrade. After thousands of tests, the CLC R&D team replaced the spring and glass ball with green plastic materials and finally created the " All Plastic Pump", which can be easily recycled and greatly reducing the difficulty of recycling.
In addition to environmentally friendly materials and easy recycling, the "All-Plastic Pump" also has a suck-back function, which means that after consumers press to remove the lotion, the extra lotion will be sucked back automatically, which is convenient and hygienic, and also saves product usage.
At present, CLC has launched two models of patented products, E50 All-Plastic Pump (Patent No. 201720975130.6) and N20 All-Plastic Pump (Patent No. 202120274885X), of which, the pumping volume of E50 All-Plastic Pump is 4.0¡À0.4ML, which is suitable for household shower gel, shampoo and other products; the pumping volume of N20 All-Plastic Pump is 2.0 The pump volume of N20 is 2.0¡À0.4ML, which is suitable for body milk, facial cleanser and daily chemical products for pregnancy, baby and children.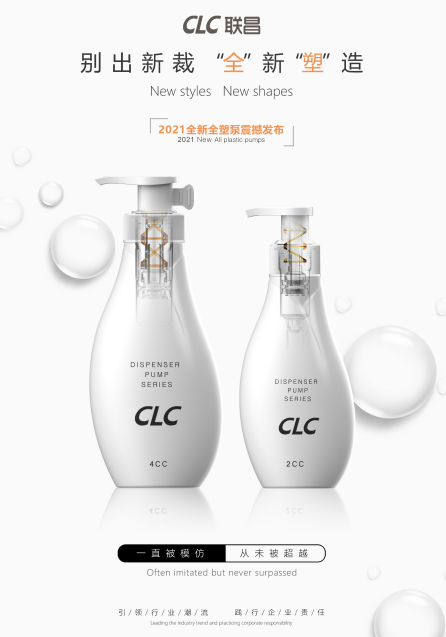 However, although the "full plastic pump" in the technology and sense of use have made a new breakthrough, but at this stage, the application of this product in the market is not high.

On the one hand, this is determined by the cost, on the other hand, it is related to the degree of popularity education in the market.

CLC marketing director Ge Hong said, in theory, the production cost of "all-plastic pump" will be lower than the traditional spring pump head, but subject to inertia thinking, many customers lack understanding of "all-plastic pump", so the product in a short period of time can not take off. "In the future, with the continued penetration of sustainable beauty concept, all-plastic pump will become a new choice for more customers, and its production costs will be greatly reduced."

In fact, many people in the industry have already sensed the future of the "all-plastic pump". Since the launch of CLC's "all-plastic pump", there have been a large number of imitation products in the market.
-02-
27 years and 3 "firsts"
Since its establishment in 1994, CLC has achieved many "firsts".
The first pump head company that has traversed a 20-year time cycle with its "innovation capability" and "customized service". Up to now, we have developed many product series, such as pump head, aerosol valve, color cosmetics and skin care packaging materials, and established a set of customized service process from "design and development, mold manufacturing, injection molding, automated installation".
The first Chinese packaging material company to set up overseas factories and branches. At present, CIMB has established Zhongshan headquarters, Shanghai and U.S. branches, and four production bases: Zhongshan factory, Suzhou factory, Heshan factory and Thailand factory. It is understood that the four bases are equipped with more than 800 sets of injection machines, achieving a daily capacity of 15 million sets of pump and 2 million sets of valves.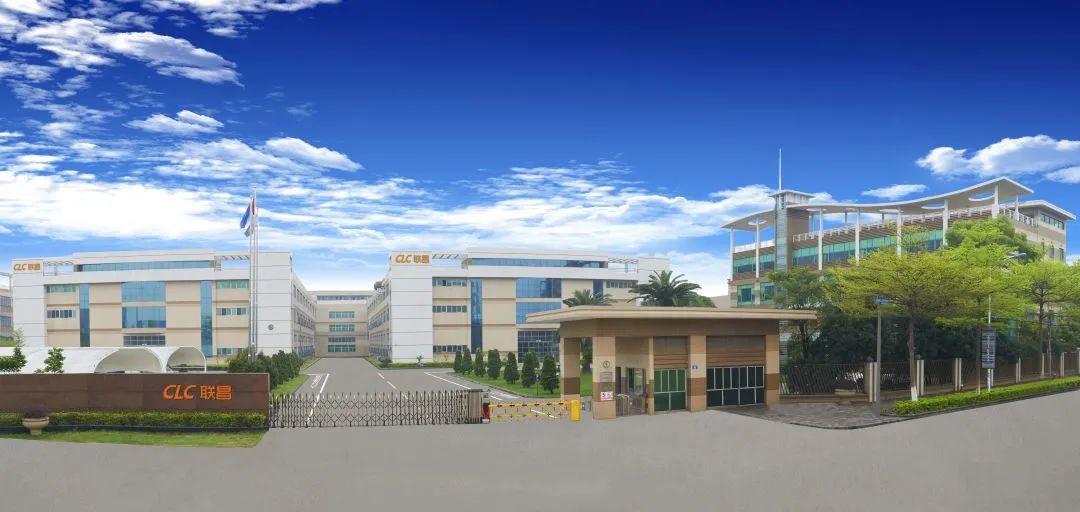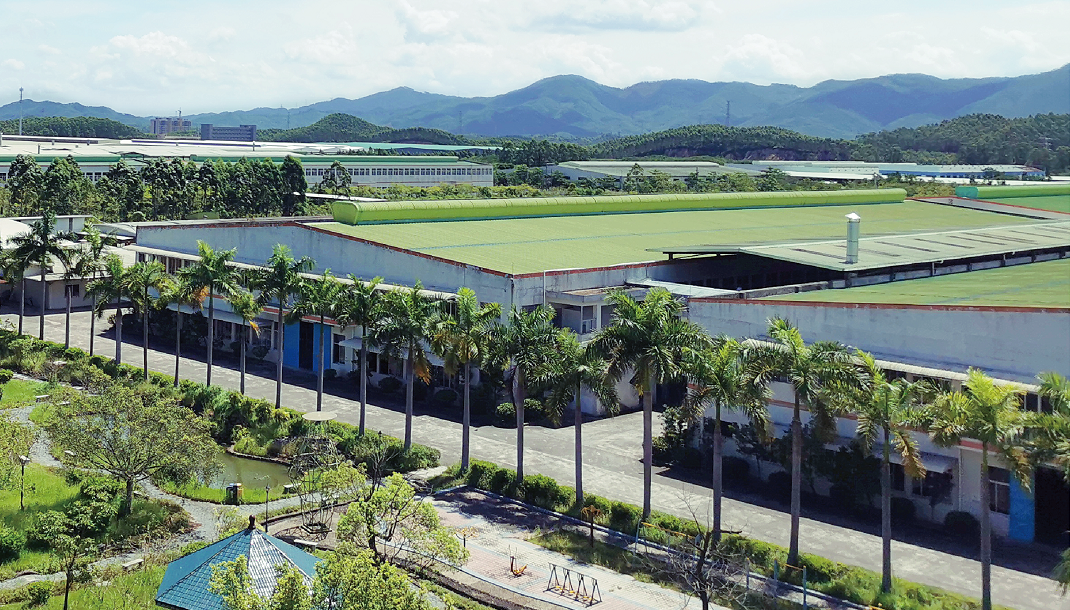 With such hardware and software strength, CLC has not only become a leading enterprise in the pump industry, but also the preferred supplier of domestic and foreign famous brands, establishing long-term cooperation with hundreds of domestic and foreign daily chemical tycoons such as P&G, L'Oreal, Avon, Unilever, Blue Moon and Libai.
In addition to deepening its main business, CLC is also practicing social responsibility. Since this year, CIMB has become the first packaging material company to launch the "All Plastic Pump", making an important contribution to the development of environmental protection in China.
The introduction of the "All-Plastic Pump" is largely due to CLC's strong investment in research and development. To date, CLC's R&D team has expanded to 40 people, and the annual R&D expenses amount to more than 20 million. The revolutionary "All-Plastic Pump" is the latest achievement of CLC's 5-year effort.
Although the initial research and development is time-consuming and labor-intensive, CLC is convinced that as the environmental protection cause continues to advance, the application of "all-plastic pump" will become a new trend in the industry.